NVIDIA (NVDA) had another blowout quarter. Its guide was impressive too. But we'll show that the Street is still way too low.
We last wrote publicly on NVIDIA on January 8th ("Where Can This Thing Go.") when we said this stock can get to $318. We pointed out that the Street was way too low. I think Thursday night's $0.62 beat is a teensy-weensy confirmation that the Street is too low. Wouldn't you say? I mean come on. Sixty Two Cent beat?! That's just ridiculous.
And to the Street's $4.71, we gave that a 'big yeah right.' Forget about what they earned. Their upside alone sliced off a chunk of that $4.71. Again, give me a break. The Street is just way too low (did I say that already?)
After Thursday's quarterly report, our numbers for the January 2019 Fiscal Year go to $9.36 versus our January 8th number of $8.16. Again, that's versus the Street's $4.71.
We'll show you one of the major drivers to those numbers, revenues.
First, Valuation
"Stock is too expensive."
"It's a bubble."
"It's all hype."
"Citron is shorting."
"Goldman downgrade."
Uh, one thing ultimately moves stocks and that's earnings. As long as our trajectory is correct, there is no hype here.
So if you value NVIDIA on forward numbers using the Street's earnings, this stock is all hype, too expensive, and a bubble. Maybe I agree.
But The Street is likely going to be way way low, right?
The Street was too low by SIXTY TWO cents this quarter. I mean, come on.
So if we use the Street's numbers for a PE valuation $232/$4.71, your PE is 49x. We like to use Zacks PE range and we use the midpoint. 49x would surely be at the upper end of that range (and please don't call me Shirley).
But really really, we need to use a real earnings number. If we use our $9.36, the stock is trading at 24X.
Here are some companies that may or may not compete with NVIDIA with a similar PE.
Procter & Gamble (PG): 20X Trailing 12 months
Walmart (WMT): 22X Trailing 12 months
You know companies that compete with NVIDIA. Oh, those companies don't compete with NVIDIA?
Who does?
AMD: 70X Trailing 12 months
Intel (INTC): 13X Trailing 12 months
Our point is that, in 12 months, if our NVIDIA numbers are correct, NVIDIA will be trading like PG but will have grown a heck of a lot faster owning super fast and huge industries, datacenter, and gaming.
Our point is that NVIDIA is not in a bubble, it's not hype, it's not expensive.
If the numbers are right…
NVIDIA is cheap. 24X if the stock goes nowhere and our earnings prove correct. Not expensive right?
Next, The Method To Our Madness
The main driver for NVIDIA is topline (revenues). They are very strong. We pointed out that revenues on a two-year basis are accelerating.
We like to simply add this year's growth with last year's growth and see the trend. That's the 'two-year stack.' Nothing fancy but oh so telling.
And we showed on January 8th how that 'two-year stack' was accelerating. The underlying trend was getting better even with ups and downs on a one-year growth rate basis.
Let's Look…
We pointed out that the 2-year went from 60% to 67% to 62% to 80% to 85%. Which way is it going? It's going up, right?
Let's see how this quarter played out…
Yup. The two-year stack increased almost by the same amount as the October quarter. 80% went to 85% went to 89% for the January quarter.
But here's the clincher…
NVIDIA is on to us. We think it read our January 8th piece and said, you know what? These guys at Elazar know what they are talking about. Let's exactly guide according to how they look at it. (We're joking, we don't know if they really said that.)
But our two-year stack was spot on for the guide too.
Here's what it said Thursday night about its guide for next quarter,
"Revenue is expected to be $2.90 billion, plus or minus two percent."
Let's plug that in…
Our method spotting this 2-year stack acceleration called the quarter and even called the guide.
Come on. The company is on to us. They guided to another acceleration. April is expected to grow faster on a 2-year basis again.
Really it's not so crazy. What matters most to the growth numbers are this year's performance and what they did last year because that factors into this year's growth. So the two-year stack accounts for both. Sometimes though you can have a great quarter this quarter, but if it faces a tough year ago growth rate, it could show a slower trend this year.
That's just like the October quarter (look just above) that slowed on a one-year basis from 56% to 31.5%. Terrible right? Not really.
Why is that not terrible to us?
Before looking at the answer please think…
If you answered because the two-year stack was accelerating you get a lollipop.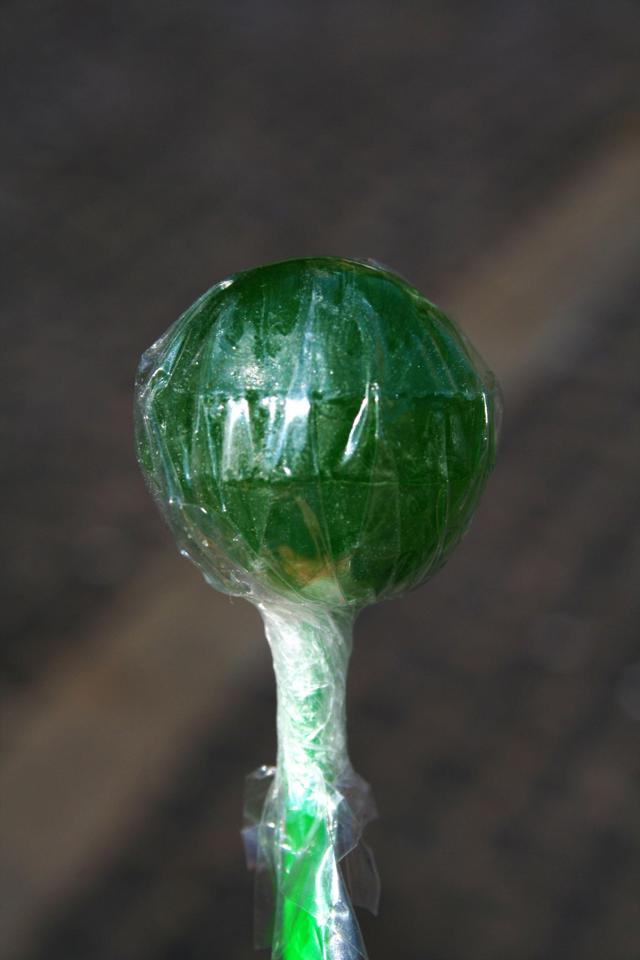 Yum. Enjoy. Not sure it's never been licked, but it's just a picture. It's green to celebrate NVIDIA being in the green on Friday.
Ok, so we're ok with the trends continuing to accelerate?
Datacenter, Look Out
The guide for overall revenues is really about flat sequentially. That is very bullish to hear from NVIDIA because its April quarter had been down from the January quarter each of the last few years.
But Datacenter accelerated this quarter.
Let's look.
Datacenter is NVIDIA's second largest business behind gaming but probably drives most of the investor interest.
January's sequential growth rate (this quarter versus last quarter, not year-over-year) accelerated from October.
But we show you all that history in the grid above to show you just how conservative NVIDIA could be.
What would you say if I told you right here and now that the Datacenter growth rate in April is going to jump from January quarter's 20% to something like 30% or 40% next quarter? Which way will the stock go? You'd do cartwheels, right? So would the Street.
Well, lookie lookie.
Last year's April quarter grew 38%, up from 23% the quarter before.
Two years ago, April grew 47%, up from 18% the quarter before.
So this coming April quarter versus the just reported 21% should do what?
I think explode. Let's see those cartwheels.
You want confirmation that April can be huge for Datacenter. Listen,
"And then there is a third wave of customer which is, they're not hyperscalers, they are internet service — service applications, internet applications for consumers. They have enormous customer basis and that they could apply to artificial intelligence to, but they run their application in hyperscale clouds. That third phase of growth is now really spiking and I'm excited about that.
"Spiking?"
Give me a break. This is ridiculous.
Next, Gaming
Gaming's 2-year also accelerated. There was one question on the earnings call that all the growth from October was Crypto which probably wasn't the case based on their answers.
And even if Crypto was a key driver, they said, similar to AMD, channel inventory is too low. So even if Crypto falls off, the channel inventory will need to replenish to meet gamer needs. NVIDIA revenues should be just fine.
Gaming is benefiting from a secular shift in gaming; online, eSports, etc. Its gaming segment is also benefiting from Crypto which can get some people queasy. With or without Crypto though, the gaming industry's secular trends are still very much intact.
Gaming is its largest business and looks very strong too us.
Let's Wrap It Up
We didn't mention auto, I know (how come he didn't mention auto?). Auto is less than 5% of revenues. I care about the biggest drivers to this year because I believe that the major driver to stock prices is 12-month EPS multiplied by its PE.
We're using 40X our next year's $9.36 which equals a target of $374. If correct, that's 61% higher versus Friday's close of $232.
I think that has more potential than Procter, no?
Subscribers can see our full model here.
Wishing you a ton of success!
Disclaimer:
Elazar and its employees do not take individual stock positions to avoid front running and other potential customer related issues.
All investments have many risks and can lose principal in the short and long term. This article is for information purposes only. By reading this you agree, understand and accept that you take upon yourself all responsibility for all of your investment decisions and to do your own work and hold Elazar Advisors, LLC, and their related parties harmless.
We published the above to give a taste of what Nail Tech Earnings members receive daily on multiple companies that we speak to.
In the last few months we've spoken to about 60 tech company management teams and built quarterly earnings models with them. We've been doing this for 20 years for big hedge funds. Dip your toe in the water with us.
Disclosure: I/we have no positions in any stocks mentioned, and no plans to initiate any positions within the next 72 hours.
I wrote this article myself, and it expresses my own opinions. I am not receiving compensation for it (other than from Seeking Alpha). I have no business relationship with any company whose stock is mentioned in this article.
Related Posts: