How about this: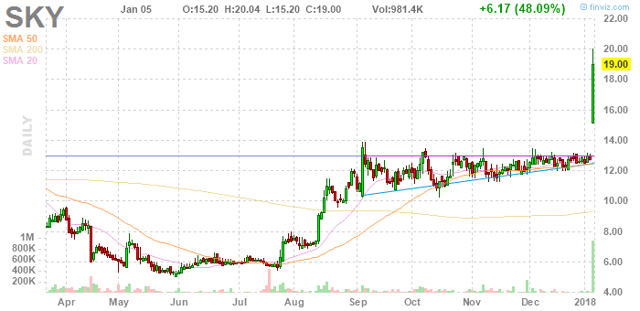 A 48% rally in a single day on very heavy volume in the shares of Skyline Corporation (SKY), we wonder whether that is sustainable.
The rally is the result of a merger with (or acquisition of, if you like) the two subsidiaries of Champion Home Builders. From the company PR:
Champion will contribute 100% of the shares of its operating subsidiaries, Champion Home Builders, Inc. and CHB International B.V., to Skyline. In exchange, Skyline is currently expected to issue approximately 47.8 million shares to Champion, representing 84.5% of the common stock of the combined company on a fully-diluted basis. Prior to closing, Skyline expects to declare a dividend to its existing shareholders of its excess net cash available for distribution under the agreement after certain transactional expenses.
We'll look at the merger below, first here is Skyline's business: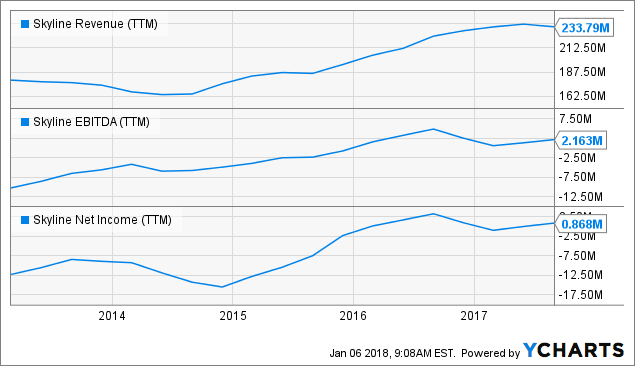 After a history of losses, the company had only just turned profitable, albeit barely. It is also generating cash, albeit not really in copious amounts: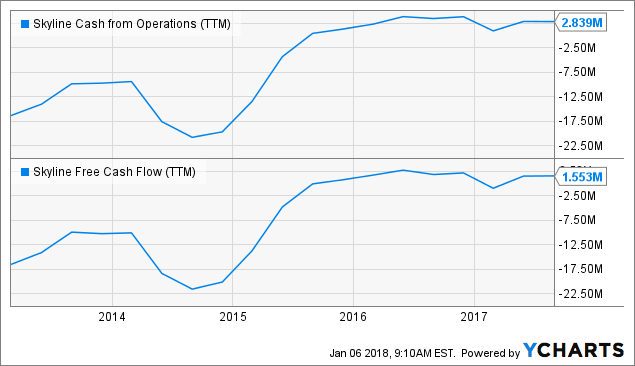 The improvement in 2015 has led to a (belated) rally in the share price: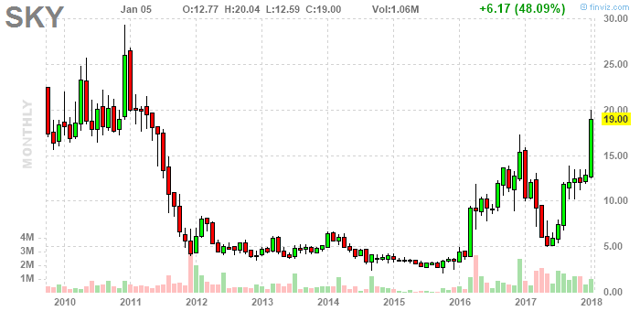 2017 brought a distinctly mixed result as the shares crashed back from $15 to $5 in fairly short order, only to rally again. And now they seem off to the races with the merger (or acquisition of Champion by Skyline, depending on your view).
Both companies operate in the pre-fabricated housing segment. Together, they operate 36 manufacturing centers in the US, and another 21 factory-direct retail locations and 10 logistical hubs.
The acquisition cost Skyline $621.4M, all issued in shares (47.8M at $13 per share). Before the acquisition, Skyline only had 8.25M shares outstanding, so the total is now 56.05M. Which brings the market cap of the new company to $1,065M, roughly at the combined revenue of the company at $1B+. The rationale:
It is anticipated that the transaction will generate significant annual synergies to be achieved through direct cost savings, reduced overhead costs and operational improvement opportunities. Additional synergies also are expected through cross-selling and distribution optimization by leveraging the combined company's owned and independent dealer network.
That does make sense. The PR also argues that the combined company has revenue greater than $1B over the past 12 months and that the pro forma balance sheet is strong generating "significant cash flow."
Champion Home Builders is a private company so we have little to go on in terms of finances, profitability and cash generation. It exited Chapter 11 in 2010 and at that time it had about $500M in revenue and 3700 employees worldwide. But three years later, according to then CEO Jack Lawless (Corp Magazine):
Today, Champion is on track to double that revenue to nearly $1 billion, Lawless said.
It also had 4300 employees worldwide, 3200 of which in the US. Lawless, back in 2013:
Generally, the manufactured-home industry reports that its products provide quality and performance at prices ranging from 10 to 20 percent less per square foot than conventional site-built homes.

"Through our modular building process, Champion is able to save time and labor costs throughout the building timeline. Without sacrificing quality, modular building takes approximately 50 percent the time of traditional building," Lawless said.
The company not only produces modular homes, but also commercial buildings like hotels and college dorms.
We'll have to await the publication of the proxy statement for more details, but the thing we noted was that if Champion was already well on its way to $1B in revenues in 2013, they appear not to have made much progress since as the combined company is said to generate $1B+ in revenues today.
This seems odd to us as there has been considerable growth in the most important segment (manufactured housing). From the latest Skyline 10-Q:

These are units, not dollars. Skyline's Q3 sales were actually down 4% from Q3 2016. Skyline, whilst much smaller, still produces well over $200K in revenues a year.
So, if Champion's revenues were already close to $1B in 2013 and the combined revenue today is $1B+, given Skyline's $230M or so revenues, it looks like Champion has stagnated from 2013 onwards.
That is a little worrying at first sight although we lack the exact figures to arrive at hard conclusions.
Apparently, shareholders of Skyline have no such qualms, given the more than enthusiastic welcome the acquisition has received on the market. Or, given that the 47.8M shares that Skyline is issuing for the acquisition is representing 84.5% of the combined company (according to the PR), that is, Skyline itself is just 15.5% of the new company with some $230M in revenues.
So it looks like Skyline is valuing Champion at a considerable premium based on revenues, but it is entirely possible that the latter is more profitable or generates more cash (or both).
Skyline also noted that they will return excess cash to shareholders. At the end of the last quarter they had $12M in cash. This works out nearly $1.50 in special dividend if all of that is paid out but acquisitions usually come with costs as well, so that remains to be seen. They are apparently not too worried about cash levels after the acquisition.
Conclusion
Given the lack of hard financial data, the strong rally in the shares seems a little odd. At first sight, the acquisition looks like making a lot of economic sense, and the return to shareholders of excess cash is a confidence booster.
However, there are signs that despite considerable industry growth, Champion might not have made much progress and whether the deal makes financial sense is impossible to judge with so little info.
We would stay clear until the dust settles.
Disclosure: I/we have no positions in any stocks mentioned, and no plans to initiate any positions within the next 72 hours.
I wrote this article myself, and it expresses my own opinions. I am not receiving compensation for it (other than from Seeking Alpha). I have no business relationship with any company whose stock is mentioned in this article.
Editor's Note: This article covers one or more stocks trading at less than $1 per share and/or with less than a $100 million market cap. Please be aware of the risks associated with these stocks.